Instructions
Search Mode: User Interface
Simple Search
The search mask enables users to interrogate the database by cross-checking the various indexes and obtain results that are as detailed and accurate as possible. The search mask contains 13 specific fields:
Title
Country
Languages
Publisher
Issues per year
Peer review
Print
On line
Years of publication: creation date
Years of publication: closure date
Description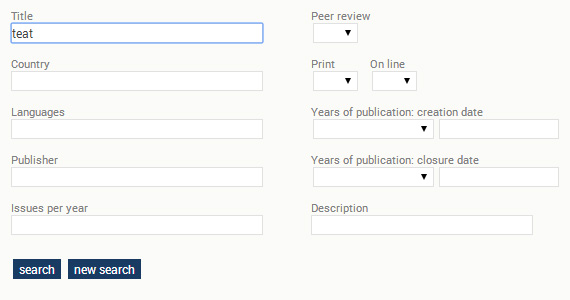 Autocomplete, Suggestions
The autocomplete feature provides users with suggestions as they type into the 'title', 'country', 'languages', 'publisher', 'issues per year' fields. The suggested values are, in fact, simply the names of all the indexes available in the database. They can be used to accurately search for specific terms. Selecting one of the suggested indexes/values is optional, and the search will be conducted solely on the basis of the inputted search string.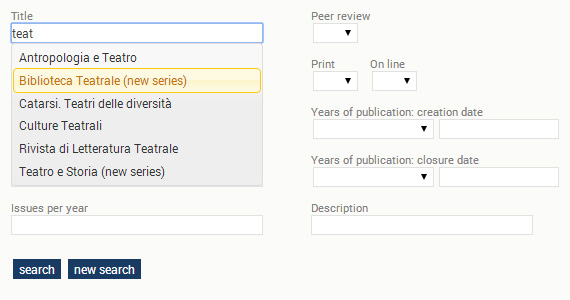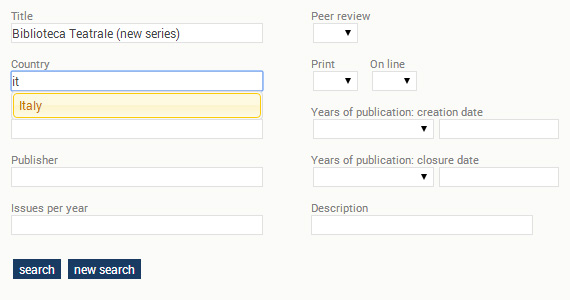 Search Results
For each search conducted, a list of titles corresponding to the searched values/filters will be returned. For each record, a brief profile containing the most important data will be displayed. By clicking on the desired title, users will be able to access the complete data sheet, which will be displayed in a pop-up window.If the list of titles returned is too long, users will be able to further narrow the search by inputting more terms.